PerTazza
Espresso Corners
A complete coffee corner at the office
for a fixed price per cup.
Your coffee corner
for a fixed price per cup
A coffee corner without up-front investment:
PerTazza Espresso Corners are suitable for any company that values appearance and quality. You do not have to invest in a quality machine or coffee corner furniture, everything is included in the price per cup, 'Per Tazza'. Moreover, it is possible to implement a payment system.
Elegant and modern design:
You can choose between two types of fully equipped coffee corners. Both give a creative interpretation to your coffee experience and have a unique appearance. The Classic PerTazza Espresso Corner is sleek and modern l and the Buscaglione ApeBar offers a more playful and authentic Italian ambiance.
Classic PerTazza Espresso Corner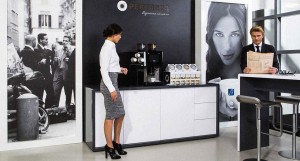 Guaranteed high-quality timeless design offering you the option of placing your own images in the back-lit frames. You can even change the picture for seasonal collections.
Buscaglione ApeBAR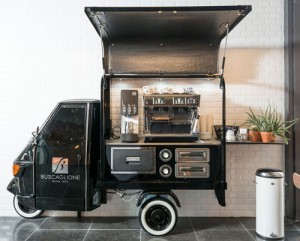 The Buscaglione ApeBAR is the ultimate eyecatcher for your lobby or office. We cut a Piaggio Apecar in half to offer you a perfect, lockable solution for self-service vending points. the ApeBAR can also be used as a professionally staffed barista bar.