PerTazza
Espresso Corners
A complete coffee corner at the office
for a fixed price per cup.
Your coffee corner
for a fixed price per cup
A coffee corner without up-front investment:
PerTazza Espresso Corners are suitable for any company that values appearance and quality. You do not have to invest in a quality machine or coffee corner furniture, everything is included in the price per cup, 'Per Tazza'. Moreover, it is possible to implement a payment system.
Elegant and modern design:
You can choose between two types of fully equipped coffee corners. Both give a creative interpretation to your coffee experience and have a unique appearance. The Classic PerTazza Espresso Corner is sleek and modern l and the Buscaglione ApeBar offers a more playful and authentic Italian ambiance.
Classic PerTazza Espresso Corner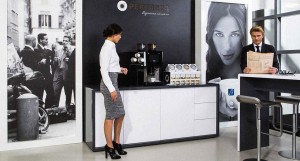 Guaranteed high-quality timeless design offering you the option of placing your own images in the back-lit frames. You can even change the picture for seasonal collections.
Buscaglione ApeBAR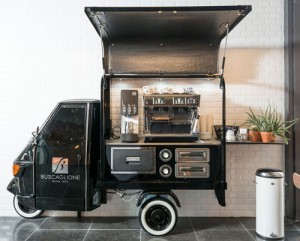 The Buscaglione ApeBAR is the ultimate eyecatcher for your lobby or office. We cut a Piaggio Apecar in half to offer you a perfect, lockable solution for self-service vending points. the ApeBAR can also be used as a professionally staffed barista bar.
Door deze site te gebruiken gaat u akkoord met het gebruik van cookies. Meer informatie
PerTazza gebruikt cookies om u een zo goed mogelijk site bezoek te laten ervaren. Door onze site te gebruiken en/of door cookies te accepteren gaat u akkoord met het gebruik van functionele, analytische, tracking cookies. Functionele cookies zorgen ervoor dat de site goed werkt. Denk bijvoorbeeld aan cookies voor onze zoekfunctie. Met analytische cookies krijgen we inzicht in hoe u gebruik maakt van PerTazza.nl (en echtekoffieopkantoor.nl). Hiermee kunnen wij onze website verbeteren. Analytische cookies houden bij hoe vaak promotionele content is bekeken en voorkomen dat u te vaak dezelfde advertentie ziet. PerTazza heeft conform de EU-richtlijnen en de General Data Protection Regulation (GDPR) een bewerkingsovereenkomst met Google gesloten en heeft het delen van gegevens met Google uitgezet. Wilt u voor al uw internetactiviteiten voorkomen dat uw gegevens gebruikt worden door Google Analytics, dan kunt u de Google Analytics Opt-out Browser Add-on installeren voor uw webbrowser. Voor meer informatie met betrekking tot hoe wij omgaan met uw privacy, zie onze Privacyverklaring (PDF).