Real-time insight
witht RDA
RDA (Remote Data Access)
Optimal insight into meter readings and maintenance history
RDA
(REMOTE DATA ACCESS)

RDA (Remote Data Access) is an optional service from PerTazza that allows automatic meter readings and automated inventory management. This proactive service offers security and convenience in keeping track of the meter readings and your inventory management. Meter readings can be automatically registered by a chip built into the machine. They no longer have to be filled in manually, collected and submitted. Due to the correct meter readings, we can automate your inventory management and complete it in time. This way you always have the right amount of stock.
The consumption report gives you complete and clear insight into the coffee costs. You can therefore allocate coffee costs to cost centers or departments. The reports include the coffee consumption per type of coffee and per machine. These reports can be compiled periodically and sent by e-mail. This makes cost control transparent and simple.
WMF Coffee Connect
The WMF Coffee Connect app allows you to view your current consumption and any malfunction reports in real time. The app also provides access to cleaning and maintenance history.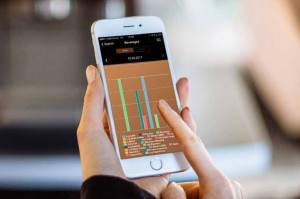 Door deze site te gebruiken gaat u akkoord met het gebruik van cookies. Meer informatie
PerTazza gebruikt cookies om u een zo goed mogelijk site bezoek te laten ervaren. Door onze site te gebruiken en/of door cookies te accepteren gaat u akkoord met het gebruik van functionele, analytische, tracking cookies. Functionele cookies zorgen ervoor dat de site goed werkt. Denk bijvoorbeeld aan cookies voor onze zoekfunctie. Met analytische cookies krijgen we inzicht in hoe u gebruik maakt van PerTazza.nl (en echtekoffieopkantoor.nl). Hiermee kunnen wij onze website verbeteren. Analytische cookies houden bij hoe vaak promotionele content is bekeken en voorkomen dat u te vaak dezelfde advertentie ziet. PerTazza heeft conform de EU-richtlijnen en de General Data Protection Regulation (GDPR) een bewerkingsovereenkomst met Google gesloten en heeft het delen van gegevens met Google uitgezet. Wilt u voor al uw internetactiviteiten voorkomen dat uw gegevens gebruikt worden door Google Analytics, dan kunt u de Google Analytics Opt-out Browser Add-on installeren voor uw webbrowser. Voor meer informatie met betrekking tot hoe wij omgaan met uw privacy, zie onze Privacyverklaring (PDF).