Quality and Sustainability
go hand in hand
In order to continue to enjoy the best coffee in the future environmentally conscious entrepreneurship, with good stewardship over raw materials is important. PerTazza aims to partner in your sustainability objectives.
Environmentally conscious entrepreneurship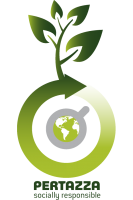 People:
PerTazza has the core value that everyone is equal, regardless of origin, limitation or level of education. We want everyone to have equal opportunities and be able to participate in society. That is why we work together with Pauw Companies (a company employing people who have difficulty joining the labour force) for our logistics and we focus on transparency and honesty towards our customers. PerTazza takes good care of its employees and offers internships with room for personal development.
Planet:
We only have one earth and we need to take care of its resources for future generations. Coffee and tea plants are endangered by climate change and water scarcity often prevails in the countries where our beans and tea are sourced from. This is why PerTazza partnered with Made Blue to support clean water projects in Afrika and why we recently added a  sustainably produced coffee blend: Buscaglione Verde. Our paper cups are produced CO2 neutrally and can also be processed in a paper for paper concept where your coffee cups are collected and processed into office items.
Profit:
PerTazza is a commercial company and not a foundation. Of course profit must be made, but not at any expense and certainly not at the expense of people and the environment. We are always looking for ways to keep our commercial activities in balance and also for ways in which we can contribute to a better world.
Sustainability and our Products
Door deze site te gebruiken gaat u akkoord met het gebruik van cookies. Meer informatie
PerTazza gebruikt cookies om u een zo goed mogelijk site bezoek te laten ervaren. Door onze site te gebruiken en/of door cookies te accepteren gaat u akkoord met het gebruik van functionele, analytische, tracking cookies. Functionele cookies zorgen ervoor dat de site goed werkt. Denk bijvoorbeeld aan cookies voor onze zoekfunctie. Met analytische cookies krijgen we inzicht in hoe u gebruik maakt van PerTazza.nl (en echtekoffieopkantoor.nl). Hiermee kunnen wij onze website verbeteren. Analytische cookies houden bij hoe vaak promotionele content is bekeken en voorkomen dat u te vaak dezelfde advertentie ziet. PerTazza heeft conform de EU-richtlijnen en de General Data Protection Regulation (GDPR) een bewerkingsovereenkomst met Google gesloten en heeft het delen van gegevens met Google uitgezet. Wilt u voor al uw internetactiviteiten voorkomen dat uw gegevens gebruikt worden door Google Analytics, dan kunt u de Google Analytics Opt-out Browser Add-on installeren voor uw webbrowser. Voor meer informatie met betrekking tot hoe wij omgaan met uw privacy, zie onze Privacyverklaring (PDF).